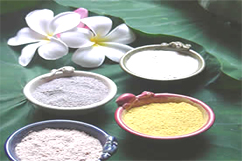 Choosing the right aromatherapy product
Aromatherapy is widely popular as a healing and calming cure for several common problems. Different types of aromatic herbs are available to suit different bodily needs. A correct herbal combination would ensure the best utilization of the healing power of this therapy. Different plant extracts are used for treating different kinds of problems. A combination of two or more herbal oils can be useful only in certain conditions.
Aromatherapy is obtainable through various herbs and essences – Lavender, Sandalwood, Ylang Ylang, Basil, Lemon Grass and several others. Each herb can be used for a variety of purposes. Lavender is an excellent relaxing herb; Black pepper is used for its
spicy nature and helpful in treating muscular pains; Tea tree oil can be used for its antibacterial function.
Good aroma herbs are grown in clean and natural environment.
Aromatic herbs can be used for a long period of time, even for a few years. However, like any other
natural product, they also tend to lose their effectiveness over time. Some aromatic oils react to
certain environment differently. Some oils may degrade on prolonged contact with sunlight, some
may react with overexposure to air or heat or even moisture. So, these should be stored carefully to
prolong their shelf life. Almost every genuine company that sells authentic oils and aroma products
would never sell them in a transparent container.
Also, there are some guidelines which should be strictly followed before any attempt to use the
aromatherapy. While many of the herbal compositions can be used without necessary precautions,
there are number of herbs which may be forbidden to be used on certain body parts. Some herbs
may be thermal in nature, while others are not. A wrong use of aromatic herbs can result in severe
skin allergy and even burns, just like consuming a wrong medicine can prove harmful.
Copy rights © 2007 Aromatherapy // Kids Summer Camp