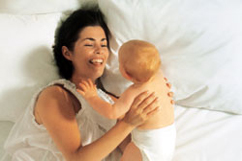 Aromatherapy Pregnancy
It's often noted that women tend to stop or avoid aromatherapy during pregnancy. Aromatherapy is certainly not prohibited for pregnant women. Instead, it helps in nourishing their body cells. Aromatherapy generally helps in rejuvenating your wellbeing, and isn't this essential during pregnancy? The baby's wellbeing depends on the good health of the mother. The nourishment that the mother is providing for herself simultaneously goes to the baby in the womb. Aromatherapy gives relaxation to the outer as well as inner environment of the body and if you are pregnant, make aromatherapy sessions a part of your health care.
The healing process in aromatherapy includes the application of essential oils and aroma scents, bathing
and inhaling aromatic vapors for complete detoxification of the body. The essential oils are extracted
from plants, flowers, roots, herbs and trees. So, they are not harmful for the health of the mother or the
baby. As the origin of oils is organic, there is no side effect on your body. The aroma therapist conducts
a health check of the pregnant woman to prescribe the right kind of essential oils and treatments to be
used for her. During pregnancy, the right kind of massage becomes necessary, especially of the limbs,
the back and the scalp since these are areas that are prone to pain. Essential oils of mild concentration
are used during pregnancy. The therapist prescribes the oils that are to be used and gives instructions
as to which ones are to be avoided. Oils that are to be avoided include: Basil, Cinnamon, Jasmine,
Lemongrass, Myrrh, Parsley, Clove, Cypress , Cedar Wood, and Clary Sage. The essential oils that are
to be used are: Bergamot, Lavender, Lemon, Sandalwood, Rosewood, Tangerine, Petitgrain,
Eucalyptus, Mandarin, Grapefruit, Chamomile, and Geranium. However, before using the recommended
oils, the woman has to go through a test to check whether she is allergic to any of them or not. The
aromatic essential oils benefit you in various ways during pregnancy since they have qualities such as
being antiseptic, uplifting, refreshing, analgesic, anti-inflammatory and antispasmodic, and relieve
muscular pains, headaches, toothaches, and improve blood-circulation.