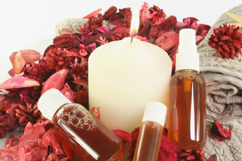 Aromatherapy oil – rejuvenate your senses
Aromatherapy has a range of uses ranging from reducing stress, ensuring tranquility of mind, to relieving pain. Whenever we think of aromatherapy, oils are the first aromatherapy products that first come to our mind. Apart from aromatherapy oils, there are also candles, soaps, and many other products that are included in the range of aromatherapy products. There are many ways in which aromatherapy oils are used. They can be evaporated and inhaled and can also be used in massages. Aromatherapy oils are divided into various categories depending on their aromas: floral oils, mint oils, woodsy oils, medicinal oils, earthy oils, spicy oils, herbaceous oils and oriental oils.
These aromatherapy oils are also categorized according to their features into carrier oils and undiluted
essential oils. Undiluted essential oils are very strong and may harm the skin. This is why; carrier oils
are added to these essential oils to dilute them. This dilution makes it easy for essential oils to be
absorbed in the body. These are non-sticky and cold-pressed. Avocado refined oil, Coconut oil, Apricot
kernel oil, Grape seed oil, Borage oil, Sweet almond oil, Peach kernel oil, Macadamia nut oil, Black seed
oil and Sunflower oil are some of the carrier oils that are used in aromatherapy.
It is better to avoid mineral oils as they leave a greasy effect on the skin and do not absorb easily. These
carrier oils have vegetable origin and have therapeutic properties. They are also called fixed oils and are
derived from seeds and nuts by the method of cold pressing.
Copy rights © 2007 Aromatherapy // Kids Summer Camp